16 Best Dog-friendly Beaches in North Carolina 2023
North Carolina (NC) is famous for its unique lighthouses and diverse beaches. Its mesmerizing coastline is a favorite vacation destination worldwide. Like South Caroline dog beaches, there are many dog-friendly beaches found in North Carolina. The beaches of NC stand out among others for being most pet-friendly. Many beaches allow bringing our fur kids along with us. It completes the family trip and gives immense joy to pet owners. 
These pet-friendly beaches offer the best pet policies, pet-friendly lodging facilities & activities to enjoy. From Oak Island to Caswell, North Carolina beaches deserve our "pupplause." visitors and their pets are welcome to splish-splash, play, and go bork-driving. 
16 Dog-friendly Beaches in NC, USA
1. Wrightsville Beach
Wrightsville Beach is a famous town in North Carolina, United States. The beach has a vast range of activities to offer its visitors, like boat ramps, bike rentals, fishing, golf, kayak rentals, etc.
Beach residents strive hard to maintain a clean and healthy atmosphere on the beach. No alcoholic beverages, fireworks, camping, or smoking is allowed here.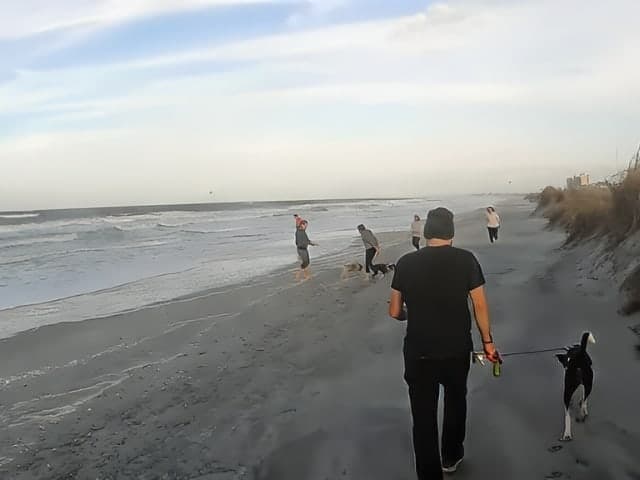 Several dog-friendly water fountains are there on Wrightsville beach. However, there are some guidelines to follow if you bring pets. You can collect dog waste bags from several stations on the beach.
Address: Wrightsville Beach, NC 28480
Read Wrightsville Beach Dog Rules
2. Kure Beach
North Carolina's Kure Beach is a long, slender, pet-friendly beach. It's an ideal location for a stroll, a picnic with family, or enjoying the scenery. Several public restrooms are available there on the beach.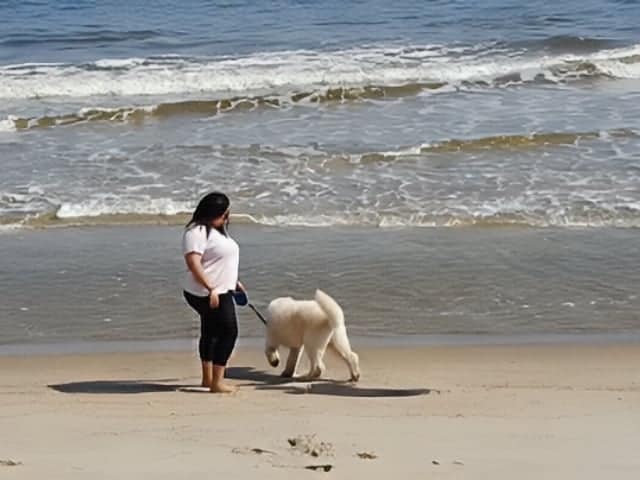 The beach keeps hosting unique events year-long. Kure Beach Pier, NC Military History Museum, and North Carolina Aquarium at Fort Fisher are some of the top tourist attractions in the area. Pet-friendly hotels like Carolina Beach Inn, Captain's Cove Motel, and Drifter's Reef Hotel have provided excellent lodging experiences for Kure Beach's visitors for years.
Address: Kure Beach, North Carolina, USA
Read Kure Beach Dog Rules
3. Topsail Beach
Topsail Beach's picturesque sea view never disappoints its visitors with its beauty. There are several beaches on Topsail Island, and many of them allow pets. It is a barrier island with a 26-mile-long beach that lies off the eastern part of North Carolina.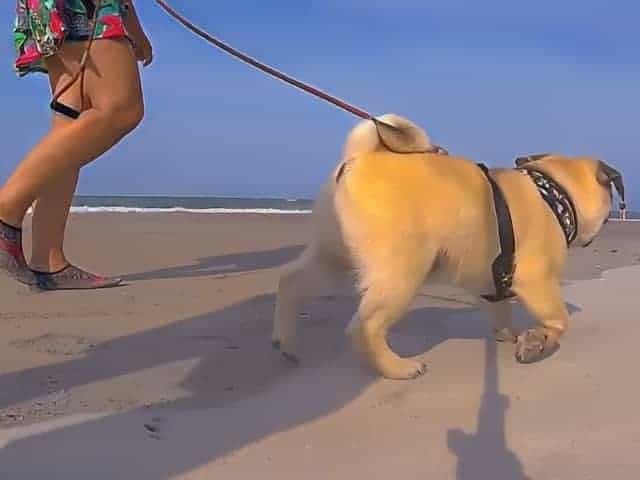 The beach authority does almost everything which will lighten its visitors' experience. They keep hosting various exciting events year-round, like Thanksgiving, the Christmas Parade, Tree lighting, and many more. The beach offers excellent spots for pier fishing. Some pet-friendly beaches near the beach are Topsails Inn, Quality Inn, Hampton Inn, etc.
Address: Topsail Beach, North Carolina, USA
Read 12 Best Dog-friendly Beaches in Delaware
4. Beaches of Oak Island
Oak Island is one of the top dog-friendly beaches in North Carolina. The island, which boasts approximately 10 miles of oceanfront along the 12-mile-long Oak Island, from which it gets its name, is located on North Carolina's southern part gorgeous coastline. There are several beach activities to enjoy here. Watching the magnificent sunshine and sunrise is the most famous of them.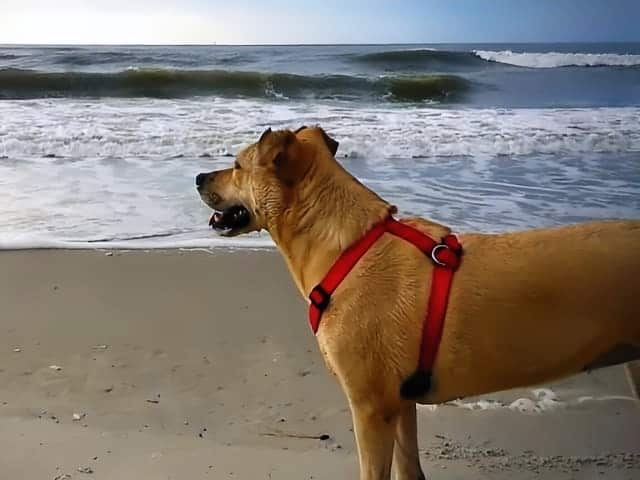 You can book magnificent spots on the beach for private weddings and ceremonies. Some dog-friendly rentals near the beach are Anchor Inn, Sea Salt, Fitz Us Fine, etc. Restaurants near the beach providing mouth-watering local cuisines are Beana's Kitchen, Bob's Dogs, Joseph's Italian Bistro, etc.
Address: Oak Island, North Carolina, USA
5. Atlantic Beach
A stunning barrier island with the Atlantic Ocean and Bogue Sound as its neighbors are where Atlantic Beach is located. The town strikes a balance between the requirements of its residents, tourists, businesses, and the sensitive coastal environment. It is well known for its abundance of famous beaches and friendly residents.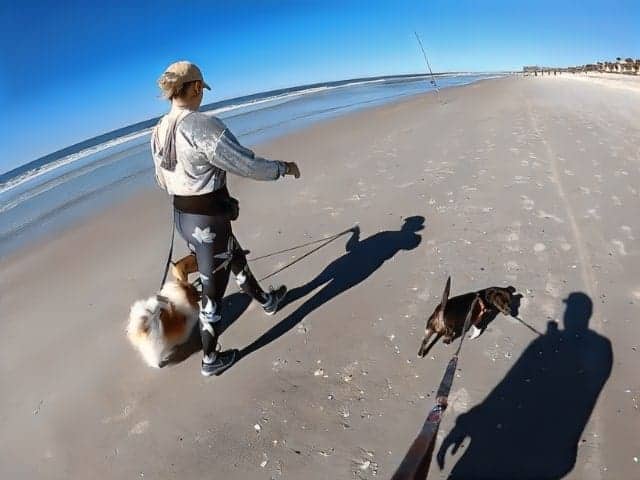 Activities like going on a sport fishing adventure, exploring Maritime forests, and tasting delectable local cuisines are enjoyed by almost every tourist. Visit the Oceanana Fishing Pier and Fort Macon State Park, surrounded by its rich history. Various exciting events on the beach will surely enlighten your mood here.
Address:  Atlantic Beach, North Carolina, US
Read 12 Dog-Friendly Beaches in Malibu California
6. Sunset Beach
Sunset Beach is a pet-friendly beach in the Brunswick country of North Carolina that offers a nearly 900 ft long fishing area. The resort town provides an extraordinary ocean view and an utterly pollution-free environment. The Sunset Beach Town park, Ingram Planetarium Swing Bridge, and Museum are must-visits.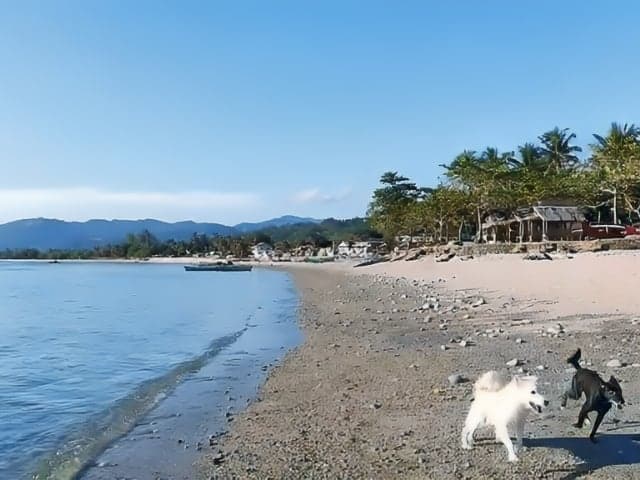 There are six splendid golf courts on the beach. La Cucina Italian Grill and Fibber Mcgee's are some top-notch restaurants near Sunset Beach. Several fine lodges and shopping complexes are also available here.
Address: Sunset Beach, North Carolina, USA
Read Sunset Beach Dog Rules, North Carolina
7. Ocean Isle Beach
Ocean Isle Beach is most famous among the residents of North Carolina for its clean sandy beaches and mesmerizing sea view. The small town is located in Brunswick, North Carolina. The nearest tourist attraction on the beach is the Museum of Coastal Carolina. Sea Turtle Nesting season is usually one of the most visited times of the year, lasting from the middle of May to August.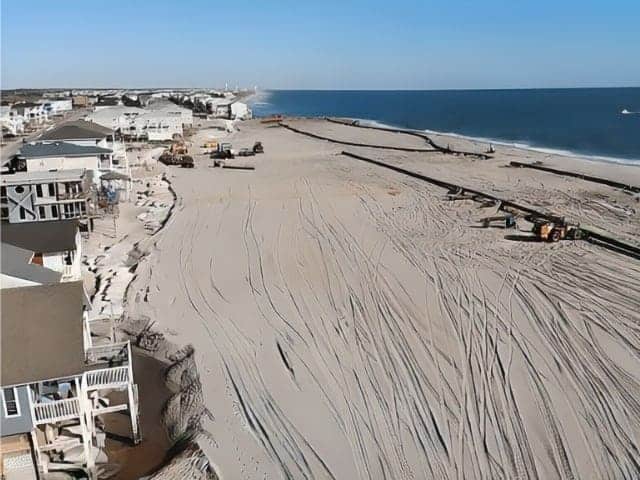 Parks and mini golf courts are available on the beach. Hotels providing the best accommodations near the beach are Ocean Isle Inn, Afterdune Delight, Witt's Inn, Lakeview Relaxin', etc.
Address: Ocean Isle Beach, North Carolina, USA
Read Why Do Dogs Rarely Get Sick?
8. Caswell Beach
Caswell Beach, which lies near the inlet of the river, Cape Fear, has long sandy beaches and pleasant weather. The beach is famous for its clean beaches, fewer crowds, and magnificent locations. Oak Island Lighthouse is the top tourist attraction here. The beach allows dogs during a specific time of the year.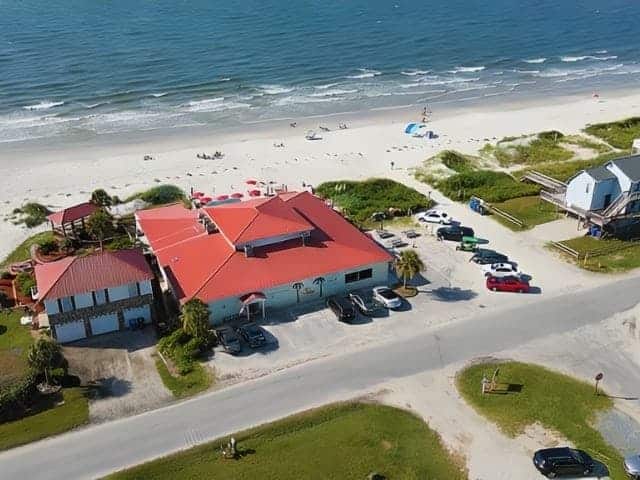 Shell hunting, surfing, kayaking, playing golf, and tasting fine local cuisines are some activities to enjoy here. There are rarely any shopping complexes and restaurants in the small town, so you may have to rush to Oak Island beaches for some basic needs.
Address: Caswell Beach, North Carolina, USA
9. Emerald Isle
Emerald Isle is a small North Carolina town with very few people. The family-friendly beach has extensive to medium sizes homes, duplexes, and lodges. Bogue Inlet Fishing Pier is a top fishing pier here. AB Watersports can be the perfect venue for water adventure lovers, located on Atlantic Beach.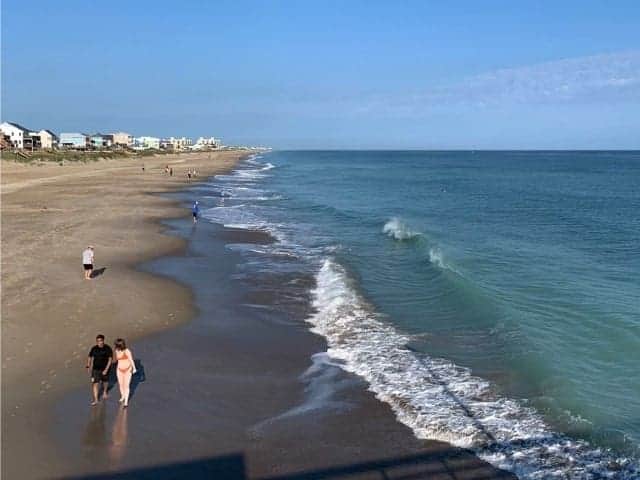 Salty Pirate Waterpark is a top tourist attraction, as it has many modern waterslides and adventure games. Dogs are allowed on Emerald Isle; however, there are certain pet rules one has to abide by to bring their pet here. Restaurants and bars like The Growler and The Trading Post are there, serving high-quality delectable dishes.
Address: Emerald Isle, North Carolina 28594, USA
10. Corolla Beach
North Carolina's most well-known beach town is Corolla, with 24 miles of pristine coastline. Corolla's wild horses, Whalehead, Currituck Beach Lighthouse, and Center for Wildlife Education are something everyone should visit on this beach. There are many shopping malls, excellent dining areas, and golf courts all over the beach.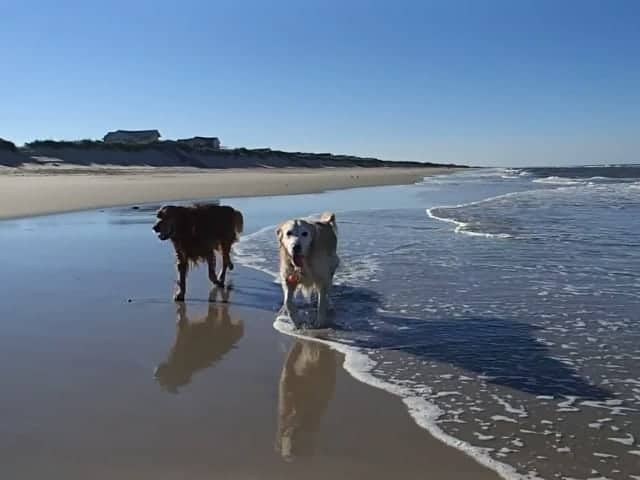 Resorts are limited on the beach, so pre-booking is a good decision. The beach also offers some breathtaking spots, ideal for wedding venues or honeymoons. Fireworks and campfires are strictly prohibited on the beach.
Address: Corolla Beach, 601 Ocean Trail, Corolla, NC 27927, United States
11. Fort Fisher Beach
Forth Fisher Beach, situated near New Hanover City, is another pet-friendly beach in North Carolina. Beach activities like hiking, paddling, swimming, fishing, and picnicking, and you can enjoy driving here. Basic amenities like classrooms, beach access, and foot rinse stations are on the beach. Camping facilities are yet to be available here, and the closest park with a camping facility is Beach State Park.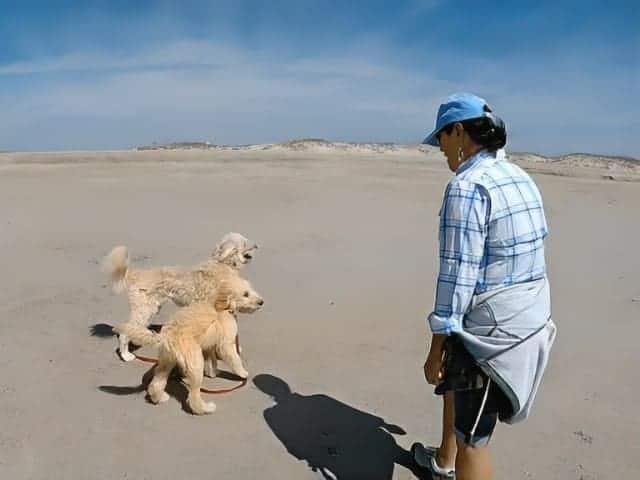 The beach is rich in its wildlife, making it an exceptional place for photographers and birdwatchers. Luckily, some sea turtles can be seen nesting on the beach during warmer months. There is no charge for visiting the beach; however, fees for parking and certain events may be charged.
Address: 1000 Loggerhead Road, Kure Beach, NC 28449
12. Kitty Hawk Beach
Kitty Hawk Beach is a tiny but famous destination among tourists. The small town has beautiful beaches as well as decorated residential areas. There are many public beaches available on the beach offering car parking. Restrooms with bathing facilities are also there on the beach. Lifeguards will be there for the safety of the tourists.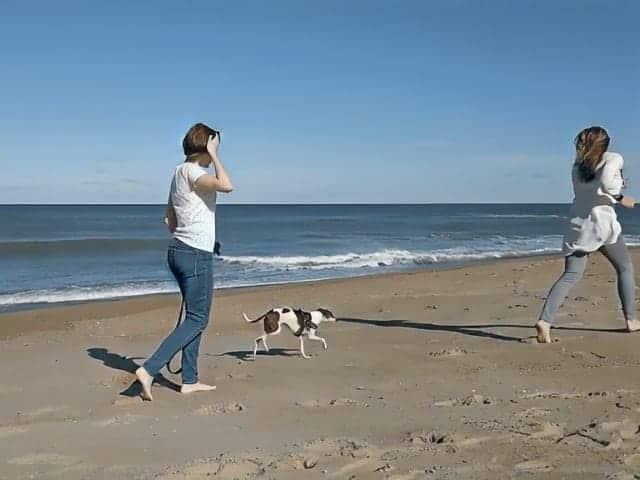 Top tourist attractions near the beach are Historic Corolla Park, Wright Brothers National Memorial, Jockey Ridge State Park, Bodie Island Lighthouse, Jenette's Pier, etc. Several restaurants are there on the beach Black Pelican, Rundown Cafe, Jimmy's Seafood Buffet and TRiO Restaurant & Market, etc.
Address: Kitty Hawk, NC 27949, USA
13. Nags Head Beach
Nags Head Beach is unquestionably a popular beach destination in North Carolina. The beach is pet-friendly; however, some rules have to be followed. Fireworks and alcoholic drinks are prohibited, but beer is allowed on the beach. The beach also has more than forty beach access.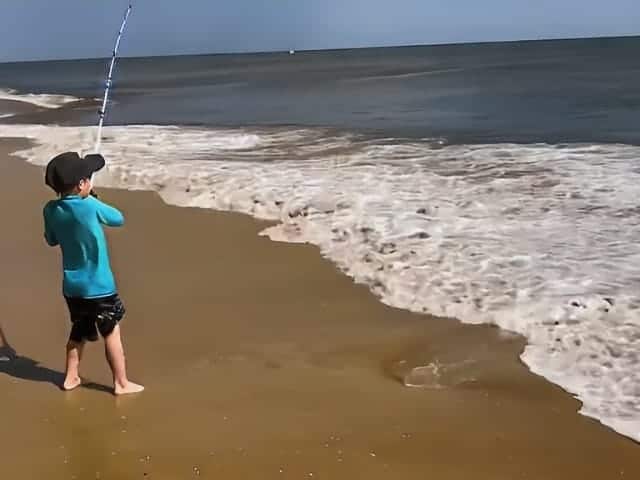 Top tourist attractions near the beach are- Jennette's Pier, Outer Banks Pier, and Jockey's Ridge State Park. The beach keeps hosting exciting and unique events all around the year.
Address: 5401 S. Croatan Hwy, Nags Head, NC 27959. 
14. North Topsail Beach
Topsail Beach is undoubtedly a famous dog-friendly beach in South Carolina. The family-friendly beach has basic amenities with good dining and lodging options. The beach never becomes overcrowded, so pre-booking is unnecessary. Topsail Beach abounds with its rich history, and its traces can be found here and there.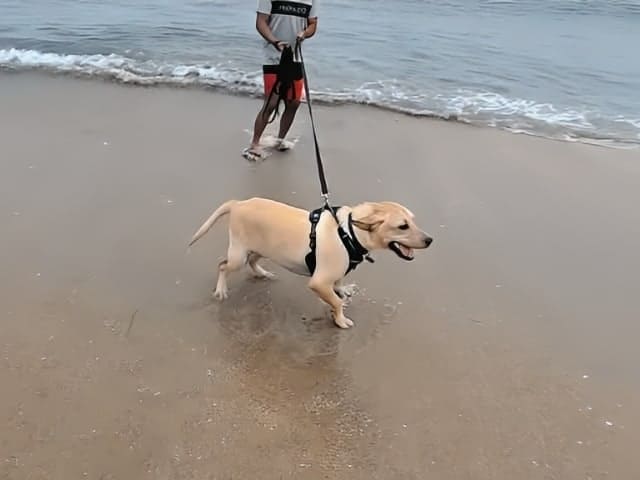 It is said that the island was occupied formerly by pirates some few ages ago. Paddling, kayaking, and fishing are some most enjoyed activities on the beach. Some famous restaurants near the beach are Breeezeway Restaurant, Beach Shop & Grill, Coras Isle-End Deli, etc.
Address: Topsail Beach, North Carolina, USA
15. Kill Devil Hills Beach
Kill Devil Hills beach is family-friendly, offering clean white sand beaches with many beach accesses. Basic amenities like good parking, restrooms, and lifeguards are there on the beach. Throughout the summer, lifeguards are on the beach daily from 10:00 am until 5:30 pm. Fireworks, glass bottles, and bonfires are strictly prohibited.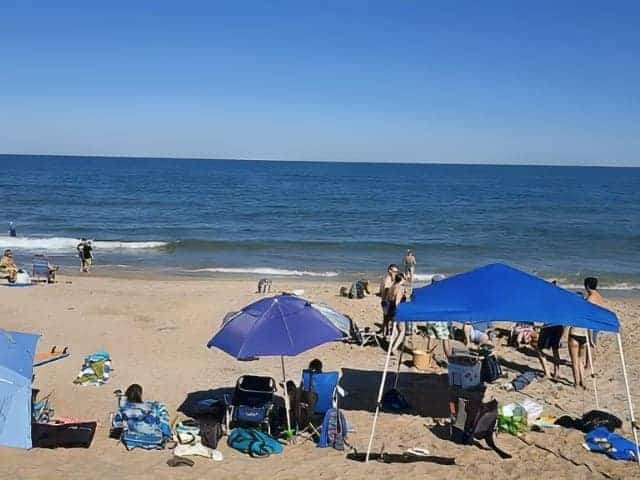 The top restaurants near Kill Devil beaches are American Pie, Miller's Seafood and Steakhouse, Firehouse Boil Delivery, etc. Avalon's fishing pier has been tourists' favorite for a long. Several top-notch shopping complexes and motels are available on the beach.
Address: Kill Devil Hills, North Carolina 27948, USA
16. Surf City Beach
Surf City is unquestionably one of the best beaches in North Carolina. The beach is located on Topsail Island. Two bridges link the island to the mainland, and it is a well-liked holiday spot. Many sea turtles are found on the beach. Several golf courts are there on the beach, Shipwreck Golf Point being the most famous of them.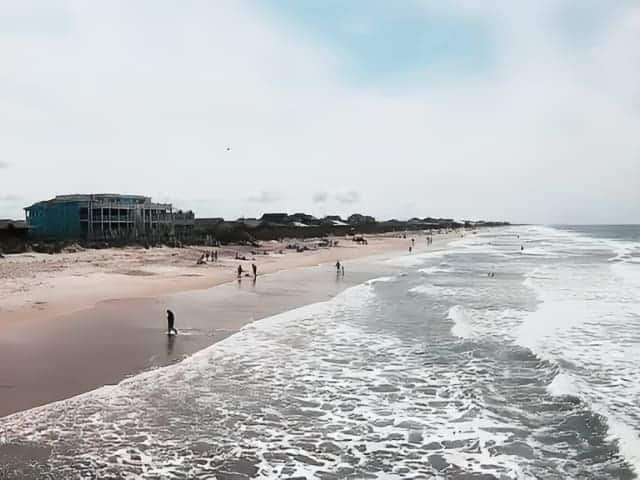 Topsail Escape Room can be the perfect house for adventure lovers. Several shopping complexes and restaurants will also accompany the visitors here. The beach keeps hosting unique concerts and events year-round.
Address: 100 North Shore Drive, Surf City, NC 28445